Best Things to Do in Miami: Food Events July 9 – 11, 2021
click to enlarge

New summer flavors have arrived at Salt & Straw in Wynwood and Coconut Grove.
Photo courtesy Salt & Straw
Cool off this weekend with the new summer ice cream menu from Salt & Straw "Berries, Berries, Berries" with five fruity flavors. In addition, a party for National Mojito Day in Café La Trova and the reopening of the Wood Tavern at Pizza & Beer.
click to enlarge


Salt & Straw's "Berries, Berries, Berries" menu includes five new flavors.
Courtesy Salt & Straw
Berries, berries, berries menu at Salt & Straw
A new summer menu is now available at Salt & Straw in Wynwood and Coconut Grove. "Berries, Bereren, Bereren" includes five types of ice cream, from "Birthday Cake and Blackberries" with vanilla ice cream, rainbow-strewn birthday crumbs and blackberry jam; to "Goat Cheese Marionberry Habanero", a tangy goat cheese ice cream with a fruity, fiery jam with marionberries. Available from Salt & Straw Wynwood, 246 NW 25th St., Miami; and Coconut Grove, # 145 3015 Grand Avenue, Coconut Grove; saltandstraw.com.
click to enlarge


Opening night at the Wood Tavern nine years ago.
Photo by Logan Fazio
Wood tavern at Pizza & Beer opens
This Sunday the owner of Wood Tavern, Cesar Morales, will open the first phase of Wood Tavern at Pizza & Beer. In this first phase, the outside area of ​​the old forest with deck and grandstands will be restored. The new Wood Tavern offers the same drinks, DJs, and activations as the original Wood. In a few months, Morales plans to open an indoor serving for Wood as well. 144 NW 23rd Street, Miami; pizza-bier-biergarten.business.site. Open on Sunday July 11th at 3pm. Opening times: Tuesday to Saturday from 5pm to 3am, Sunday from 3pm to midnight.
click to enlarge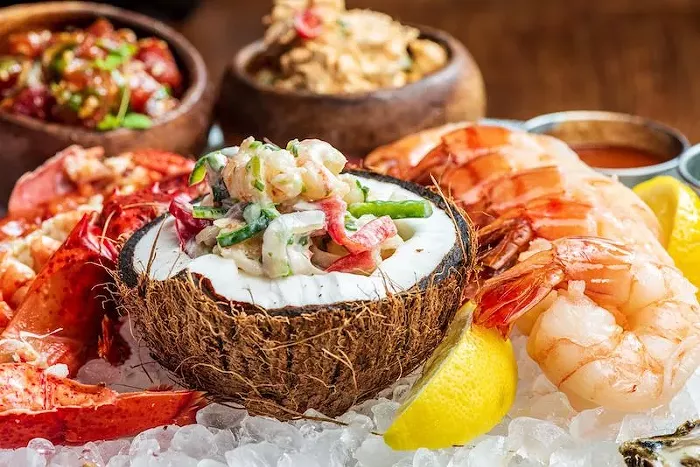 Treat yourself to an intimate seafood feast with friends and family on the Burlock Coast.
Photo © rmstudiocorp
The Cove: A Seafood Pop-Up Experience on the Burlock Coast
For those looking for a safe, secluded dining experience, Chef Paula DaSilva and Chef Brooke Mallory have curated an evening pop-up in the restaurant's Rum Room: "The Cove: A Pop-Up Seafood Experience". For $ 99 per person (excluding taxes and tips), groups of up to 10 can immerse themselves in a bottomless three-course seafood meal with unlimited beer, champagne, and wine. The menu begins with bottomless raw food dishes for the table, followed by prepared individual dishes with the freshest catch of the day and side dishes as well as dessert. The offer is available daily upon reservation. Call 954-302-6430 or email [email protected] Burlock Coast is located in the Ritz-Carlton, Fort Lauderdale at 1 N. Fort Lauderdale Beach Blvd., Fort Lauderdale; 954-302-6460; burlockcoast.com.
click to enlarge


Cafe La Trova is one of the restaurants participating in this year's Estrella Damm Culinary Journey.
Photo by Adam Delgiudice
National Mojito Day Party with Aaron Diaz at Café La Trova
Join guest bartender Aaron Diaz from Carnaval Bar in Peru, ranked 21st of the 50 best bars in the world in 2020. Sign up in advance for free mojitos, snacks, and live music. The first 25 guests at RSVP will also receive a mojito making kit. Sunday July 11th from 7:00 p.m. to Café la Trova, 971 SW Eighth St., Miami; cafelatrova.com. RSVP via eventbrite.com.
click to enlarge


The interior of Est. 33
Photo courtesy of Est. 33
Copa America Watch the 2021 Copa America in Est.
Cheer on your favorite soccer team in the Est. 33 as the brewery / restaurant is hosting Copa América 2021 watch parties in June and July. (See the schedule here.) Enjoy 16 ounce beer specials for $ 4 with all Est during each game. The characteristic beers of 33, from the legendary lager and 33 pale ale, to newer editions on tap, such as "One Night in Bangkok" and "Hallo Schatzi". Pair your pint with a rotating selection of bar bites ($ 6 to $ 9). 701 S. Miami Avenue, Miami; 305-425-9266; est33.us.